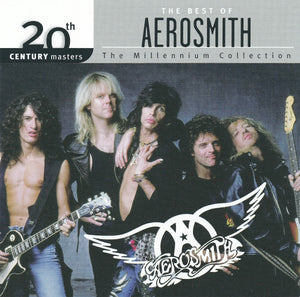 This is a compilation album that spans the band's second golden age, from 1987 to 1994. The album features 12 of Aerosmith's biggest hits from that period, including "Angel," "Janie's Got a Gun," "Love in an Elevator," "Dude (Looks Like a Lady)," and "Cryin'." The album was a commercial success, reaching number one on the Billboard 200 chart in the United States. It has been certified 6x Platinum by the Recording Industry Association of America (RIAA).
Here is the track listing for the album:
Angel
Janie's Got a Gun
Love in an Elevator
Dude (Looks Like a Lady)
Rag Doll
Cryin'
Amazing
Livin' on the Edge
What It Takes
Get a Grip
I Don't Want to Miss a Thing
Deuces Are Wild
The album was produced by Bruce Fairbairn, who is known for his work with other hard rock bands such as Van Halen and Bon Jovi. Fairbairn helped to give Aerosmith's sound a more polished and radio-friendly feel during this period.
20th Century Masters: The Millennium Collection: The Best of Aerosmith is a great introduction to Aerosmith's music for fans who are not familiar with the band. It features some of their biggest hits from their most successful era.
Original Release:  2007.
Catalog No:  B0014619-02.
Type:  Jewel Case.