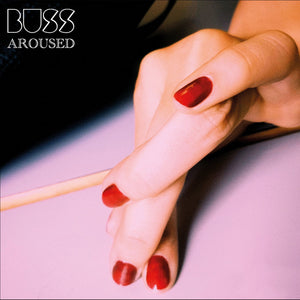 ISR121: BUSS "AROUSED" #ISR VNYL EDITION

*Heavy Weght TRANS MAGENTA Vinyl 180 grams, housed in single-pocket LP-sleeve cover with insert and poster A3.

*TRANS MAGENTA Vinyl Hand-Crafted in 33 1/3 RPM, with new special audiophile mastering for vinyl edition to get the highest possible sound quality.

ALBUM Credits:
Whatever happend in the past two years, clearly showed that we probably choosed the worst historical period to make and enjoy music. Don't need to tell you what we're talking about.
But even if sabotaged and talented in making wrong decisions, we found enough time to work on something that bands use to do: a full album.
AROUSED was the right word to describe our mood: lustful, provocative and disappointed. Sexy woman's fingers on the cover, can clearly describe our pleasure in our music, but still uncofortable with our times.
All songs are writen and performed by Buss except the bonus track "Mint Julep" writen by the italian author Nino Ferrer in the 60' and revisited in our style.
Our riffs were recorded with only heavy vintage classic instruments and even with prototypes. Nothing strange if at some point the bass cabinet burned down...

Album review:
Italian Psychodelic / Heavy / Stoner Rock. This has authenticity oozing out from everywhere. These guys do belong to all the genres listed but they also forge their own path with a determination & steadfastness to be admired. Plus this is their debut full length which makes everything even more impressive!

Tracklist:
1. Woland 06:40
2. Canned Fear 04:39
3. Iron Flies 03:47
4. Pistol Shrimp 05:24
5. Onion Rings 05:58
6. Garden Of Fools 04:16
7. Beer Song 05:29
8. Nino Ferrer - Mint Julep (Nino Ferrer cover - Bonus track) 04:294
Genre:  Rock.
Sub-Genre:  Hard / Heavy / Psychedelic.
Catalog No:  ISR121.
Size:  12" Single Vinyl Record.
Color:  Transparent Magenta.