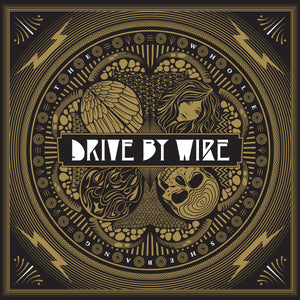 The Whole Shebang is the third studio album by Dutch stoner rock band Drive By Wire. It was released on January 12, 2015, by My First Sonny Weissmuller Recordings. The album was produced by Drive By Wire and Bart van der Zanden.

The album was a critical and commercial success, receiving positive reviews from critics and charting in the Netherlands. It was also nominated for a Dutch Metal Festival Award for Best Album.

The album's sound has been described as a mix of stoner rock, desert rock, and heavy metal. The songs are characterized by their heavy riffs, driving rhythms, and psychedelic atmosphere.
If you're a fan of stoner rock, desert rock, or heavy metal, then you need to check out The Whole Shebang by Drive By Wire. It's an album that will blow you away.
Genre:  Rock.
Sub-Genre:  Acid / Alternative / Blues.
Catalog No:  REX77.
Type:  Digipack.