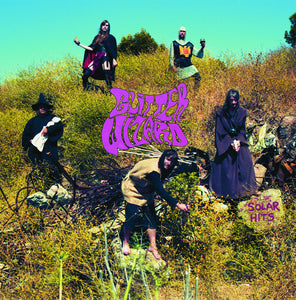 Solar Hits is the debut album by American rock band Glitter Wizard. It was released in 2012 on Under the Gun Records. The album was recorded at The Machine Shop in Hoboken, New Jersey and was produced by Steve Albini.

The album's sound has been described as a mix of garage rock, psych rock, and noise rock. The songs are characterized by their heavy guitars, distorted vocals, and driving rhythms.

The album was met with positive reviews from critics. Pitchfork gave the album a score of 7.8 out of 10, calling it "a wild and unpredictable debut that defies easy categorization."
If you are a fan of garage rock, psych rock, or noise rock, then you should definitely check out Solar Hits by Glitter Wizard. It is a wild and unpredictable album that will keep you entertained from start to finish.
Genre:  Rock.
Sub-Genre:  Glam / Psychedelic / Stoner.
Catalog No:  

GWIZ-1.
Type:  Digisleeve.