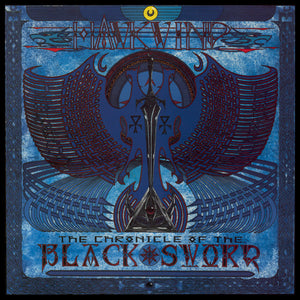 Hawkwind's The Chronicle Of The Black Sword is a 1985 concept album based on the adventures of Elric of Melniboné, a recurring character in the novels of science fiction author Michael Moorcock, a long-standing associate of the group. Moorcock contributes lyrics to one track on the album, "The Pulsing Cavern."

The album is a mix of Hawkwind's signature space rock sound with elements of heavy metal and prog rock. It features some of the band's most memorable songs, including "Needlegun," "Song of the Swords," and "Elric (The Enchanter)."

The album was a commercial success, reaching number 65 on the UK Albums Chart. It was also critically acclaimed, with reviewers praising its ambition and scope.

The Chronicle Of The Black Sword is considered to be one of Hawkwind's finest albums, and it is essential listening for any fan of space rock.
Original Release:  1985.
Catalog No:  ATOMCD 1012.
Type:  Jewel Case.