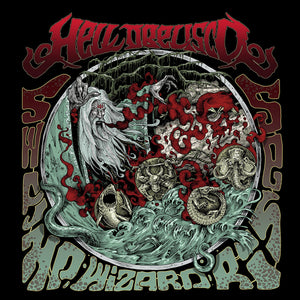 The debut of the HELL OBELISCO, Swamp Wizard Rises, is the natural development of a couple of songs composed for promotional purposes, which draw the attention of Argonauta Records, the most qualified label in this kind of sound. The recordings with Para at the Boat Studios and the mixing with Paso at Studio 73 highlighted the band's personality, taking advantage of modern technology and bringing out some particularly representative songs like Teenage Mammoth Club and Earth Rage Apocalypse.
The Swamp Wizard Rises features vocalist Tony J.J. (Transport League and B-Thong) and Carmelo Orlando (Novembre). Considering that every member of HELL OBELISCO is a fan of these artists, their collaboration respectively with the songs Voodoo Alligator Blood and Biting Killing Machine was not only a matter of prestige, but a quality improvement of the album in a general sense.
The reference point of HELL OBELISCO for the cover and the artwork of Swamp Wizard Rises has always been the illustrator Roberto Toderico, a fantastic artist who was able to capture the band's imagination and develop it in the most complete way. Despite a great variety of settings and scenarios, including ancestral rites practiced in the swamps, violent robberies and mother earth rebelling against man's greed, the central figure of the concept is a sorcerer who identifies the darkness of the human being and the world around him.
Genre:  Metal.
Sub-Genre:  Doom / Sludge / Stoner.
Catalog No:  REX107.
Type:  Digipack.