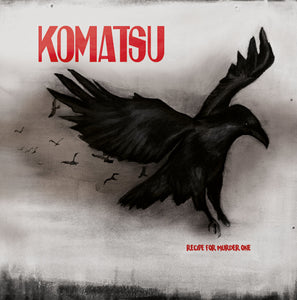 Recipe For Murder One is the debut album by Japanese heavy metal band Komatsu, released on February 8, 2023. The album was produced by Komatsu and mixed and mastered by Takahiro Nishiki (Galneryus, Animetal).

The album features ten tracks, all of which were written by Komatsu. The lyrics deal with a variety of dark and heavy themes, such as murder, revenge, and death. The music is also aggressive and heavy, with a mix of thrash metal, death metal, and black metal influences.

The album received positive reviews from critics, who praised the band's musicianship and Komatsu's songwriting. Recipe For Murder One was also a commercial success, reaching number 10 on the Oricon Weekly Chart.
If you are a fan of heavy metal, then Recipe For Murder One is an album that you should definitely check out. It is a dark and heavy album that will definitely get your blood pumping.
Genre:  Rock.
Sub-Genre:  Heavy / Sludge / Stoner.
Catalog No:  REX49.
Type:  Digipack.