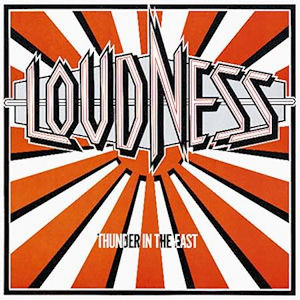 Thunder in the East is the fifth studio album by Japanese heavy metal band Loudness, and the first released by a major American label after the contract signed with Atco Records, then a subsidiary of Atlantic Records.  Aside from being the band's first all-English release, it is the first Loudness album produced by Max Norman, best known for his previous work with Ozzy Osbourne, who also produced Lightning Strikes in 1986 and Soldier of Fortune in 1989.  Thunder in the East features the single "Crazy Nights", the band's biggest hit in America, and the power ballad "Never Change Your Mind". This album marked the first time a Japanese band entered the US Top 100 chart, where it remained for 23 weeks, peaking at No. 74.  The album was certified Gold by the RIAA in 1986.  It is considered one of the greatest heavy metal albums of all time.
Original Release:  1985.
Catalog No:  R1-562814.
Size:  12" single vinyl record.
Color:  red.