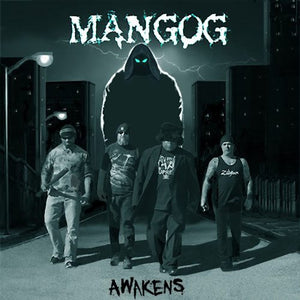 Mangog Awakens is the debut studio album by American doom metal band Mangog, released on January 9, 2017 by Argonauta Records. It consists of 9 tracks.
The album includes three songs from the band's 2015 EP Daydreams Within Nightmares. The rest of the tracks are all new.
Mangog Awakens showcases the typical characteristics of doom metal, which is defined by its dark and heavy sound. It features slow tempos, low-tuned guitars, powerful bass, and heavy drums.
The track listing is as follows:
Time Is A Prison

Meld

Ab Intra

Of Your Deceit

Into Infamy

Modern Day Concubine

A Tongue Full Of Lies

Daydreams Within Nightmares

Eyes Wide Shut
Mangog Awakens was well-received by doom metal fans. The band's heavy and powerful sound and melodic songs were particularly praised.
Despite being the band's debut album, Mangog Awakens occupies an important position in the doom metal genre. It is considered to be the album that marked the beginning of the band's successful career.
In 2021, a remastered version of Mangog Awakens was released to commemorate the band's 10th anniversary. This version includes two new tracks that were not included in the original version, "The Beast of the Apocalypse" and "The Call of the Void".
Mangog Awakens is a great album that I would recommend to fans of doom metal. If you want to experience the band's powerful and heavy sound, be sure to check out this album.
Genre:  Metal.
Sub-Genre:  Doom.
Catalog No:  REX58.
Type:  Digipack.