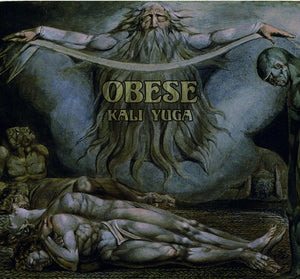 Kali Yuga is the fourth studio album by Dutch stoner metal band Obese. It was released on June 1, 2015, through Argonauta Records. The album was produced by Obese and mixed by Jaime Gomez Arellano (Paradise Lost, Ghost, Ulver).
The album's title refers to the fourth and final of the four yugas, or ages, in Hindu cosmology. It is a time of darkness, decline, and moral corruption. The album's lyrics reflect this theme, with songs about war, destruction, and the end of the world.
Musically, Kali Yuga is a heavier and more aggressive album than Obese's previous releases. The guitars are thicker and more distorted, and the vocals are more guttural. The album also features more progressive elements, with songs that are longer and more complex.
Kali Yuga was met with positive reviews from critics. Metal Hammer gave the album a 7/10, calling it "a monolithic slab of stoner metal that will leave you feeling crushed and exhilarated in equal measure." Decibel Magazine gave the album an 8/10, praising the band's "incredible musicianship" and "uncompromising heaviness."
If you are a fan of stoner metal, then you should definitely check out Kali Yuga by Obese. It is an excellent album that is sure to please fans of the genre.
Genre:  Rock.
Sub-Genre:  Progressive / Sludge / Southern.
Catalog No:  None.
Type:  Digipack.