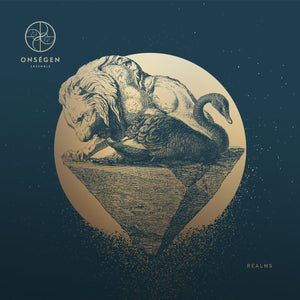 It is a progressive rock album with elements of jazz, folk, and world music.
It was produced by Jaime Gomez Arellano and Onségen Ensemble.
It was recorded at Space Studios and Hell-Fi Studios in 2022.
The album features six tracks:

The Sleeping Lion
Naked Sky
Abysmal Sun
Collapsing Star
The Ground of Being
I'm Here No Matter What

The album has been praised by critics for its unique sound and its exploration of spiritual themes.

If you are looking for a unique and challenging listen, I highly recommend checking out the Onségen Ensemble album Realms.
Genre:  Rock.
Sub-Genre:  Cinematic / Post-Rock / Psychedelic.
Catalog No:  PKJ29102021.
Size:  12" Single Vinyl Record.
Color:  Blue.