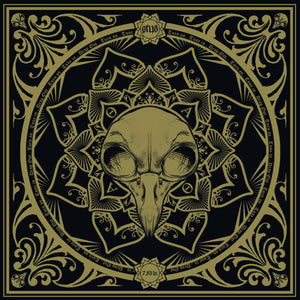 7.83Hz is a concept album divided in 3 chapters and inspired by Timothy Leary's quote: Turn on, Tune in, Drop Out.
This musical journey intends to be more empirical and scientific rather than religious/orthodox, showing a possible way to reach the "Doors of Perception", to tune in with the Universe and finally to reach a lucid detachment.

The conscious "Emptiness" reached through spiritual practices such as meditation and recitation of mantra, takes shape in the 70 minutes of musical solutions contained in this record, reaching their fulcrum at the frequency of 7.83 HZ also known as "Buddha's frequency". Surprisingly, when analyzing the frequencies given in response by an electroencephalogram of a person in deep meditation (Alpha & Theta waves), it turns out the coincidence that the earth's magnetic field happens to be also 7.83 HZ as discovered by the German physicist Winfried Otto Schumann.
Genre:  Metal.

Sub-Genre:  Doom / Post-Metal / Post-Hardcore.
Catalog No:  REX68.
Type:  Digipack.