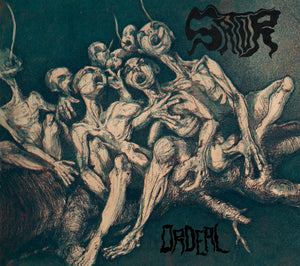 Sator - Ordeal is the second full-length studio album by the Italian stonerdoom/sludge metal band Sator. It was released on September 1, 2017, by Argonauta Records. The album was produced by Sator and mixed and mastered by Francesco Donadello.
The album was well-received by critics, with many praising its heavy, dark, and psychedelic sound. Metal Hammer gave the album a 9/10 rating, calling it "a crushing slab of doom metal that will leave you breathless." Decibel Magazine also gave the album a positive review, saying that it is "a must-have for fans of heavy, sludgy doom metal."
The album is a concept album about the journey of a soul through the afterlife. The lyrics are dark and introspective, dealing with themes of death, loss, and redemption. The music is heavy, slow, and crushing, with a psychedelic edge. The album is a perfect example of stonerdoom/sludge metal, and it is sure to appeal to fans of the genre.
Genre:  Metal.
Sub-Genre:  Doom / Psychedelic / Sludge.
Catalog No:  REX86.
Type:  Digipack.