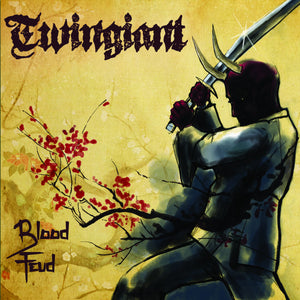 The album was recorded and mixed by Chris Common at The Machine Shop in Mesa, Arizona. It was mastered by Brad Boatright at Audiosiege.
The album features eight tracks, all of which were written by Twingiant. The songs are heavy and riff-oriented, with a mix of slow, doomy passages and more uptempo, aggressive sections. The vocals are guttural and harsh, and the lyrics deal with themes of violence, revenge, and death.
Blood Feud was well-received by critics, with many praising the band's heavy sound and their ability to blend elements of stoner rock, sludge metal, and doom metal. The album has been compared to the work of bands such as Sleep, Black Sabbath, and Eyehategod.
If you are a fan of heavy music, then I would definitely recommend checking out Blood Feud by Twingiant. It is a well-made album with a lot of heavy riffs and catchy songs.
Genre:  Metal.
Sub-Genre:  Doom / Sludge / Stoner.
Catalog No:  REX89.
Type:  Digipack.